Lýsing
Dynafit Radical 88 fjallaskíðasett fyrir konur, kemur tilbúið til þín, með skinnum og bindingum það eina sem þú þarft að gera er að taka það úr kassanum og þú ert nánast tilbúin að leggja af stað.
Radical fjallaskíðn eru sérstaklega hönnuð með konur í huga, með mýkra flexi og léttari en Unisex útgáfan af sömu skíðum. Vönduð alhliða skíði sem henta jafnt í þéttpakkaðan snjó og púður og allt þar á milli. Skíðn fyrirgefa vel í beygjum og famúrskarandi hönnun tryggir jafna orkudreifingu í braut og utan.
The Radical ski set for women is pre-mounted and perfectly coordinated for classic ski touring. It consists of the Radical ski, Radical binding, and skins.
DYNAFIT ski touring sets make the activity of ski touring even simpler and less complicated.
True to the motto "Unpack and ski," the search for the ideal combination of ski, bindings and skins is now a thing of the past. You can simply put your trust in the long experience of the experts at DYNAFIT who have put together a perfect setup for you: Order your package, unpack it, have your bindings adjusted by an authorized professional, and off you go to the slopes.
The new Radical ski set for women was developed especially to meet the needs and demands of classic ski touring enthusiasts who seek a package for any and every day without the dilemma of making a choice. The set includes the new Radical 88 Women ski. With a waist of 88 mm, the Radical is all about lightness on the climb, while also guaranteeing great stability and a smooth, no-chatter ride on the descent.
Compared to the unisex model, this special women's ski is somewhat lighter and tuned for a softer flex. The Radical 88 scores big with its simple handling and easy turn initiation thanks to its rocker construction at tip and tail. The shape is ideal for everything from hardpack to softer snow to powder, making it a true Swiss army knife for all your tours. The full ABS sidewalls guarantee the best possible power transfer to the ski – whether on-piste or in the backcountry. The ski is also very forgiving with its wide turning radius. At the same time, the light wood core of poplar provides the necessary pop with high damping properties.
Ideally proportioned ski dimensions contribute to balanced performance. Matched up with the Radical 88 ski in the set is the Radical binding. Ski and binding make up a perfectly coordinated set. A special Titanal plate for mounting a binding is built into the ski in the shape of the Radical touring binding to ensure a truly balanced ski flex. The Radical Binding has been a tried-and-proven all-rounder on classic ski tours for years. It combines durability, comfort and user-friendly handling. Whether your local mountain or a high-alpine ski tour, the Radical is always a good pick. The binding has two riser heights you can operate quickly and easily with your pole. The binding also offers 25 mm of flex in its length adjustment, enabling it to fit various sole lengths. Its release value can be fully adjusted both laterally and vertically from DIN 4 to 10. For a bit more safety on ice or crust, ski crampons can also be attached to the Radical ski touring binding.
As with all DYNAFIT bindings, the Radical has been developed and manufactured in Germany and offers a lifetime guarantee.
The set is rounded out with the Radical ski skins. These have been made in Switzerland with the familiar POMOCA quality, offering ideal grip and glide characteristics.
Radical ski set – Everything you need.
| | 151 | 158 | 166 | 174 |
| --- | --- | --- | --- | --- |
| Weight Size | 1080 g | 1140 g | 1210 g | 1280 g |
| Sidecut top | 118 mm | 119 mm | 120 mm | 121 mm |
| Sidecut middle | 85 mm | 86 mm | 87 mm | 88 mm |
| Sidecut bottom | 107 mm | 108 mm | 109 mm | 110 mm |
| Radius A | 16 m | 17.5 m | 19 m | 20.5 m |
| Tip Rocker | 250 mm | 260 mm | 270 mm | 280 mm |
| Tail Rocker | 85 mm | 90 mm | 95 mm | 100 mm |
Material
Others:
ABS, Carbon Speed Stringer
Features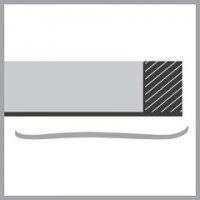 Full Side-Wall
Using impact-resistant ABS along the entire length of the ski edge from the steel edge to the top coating guaranteesmaximum force absorption, for example when skiing over rocks or stones. In addition, direct binding-to-ski powertransfer at the edge is optimised thanks to this design.
Balanced Binding Ski Flex